Route & Fares
The return trip up and down the river, guided by a boatman or woman, takes about 90 minutes. At the turnaround point, about 20 minutes is allowed for walking a little further into the gorge, and throwing "undama" to make a wish. On the return journey, you can enjoy the boatman or woman singing "Geibi Oiwake".
Route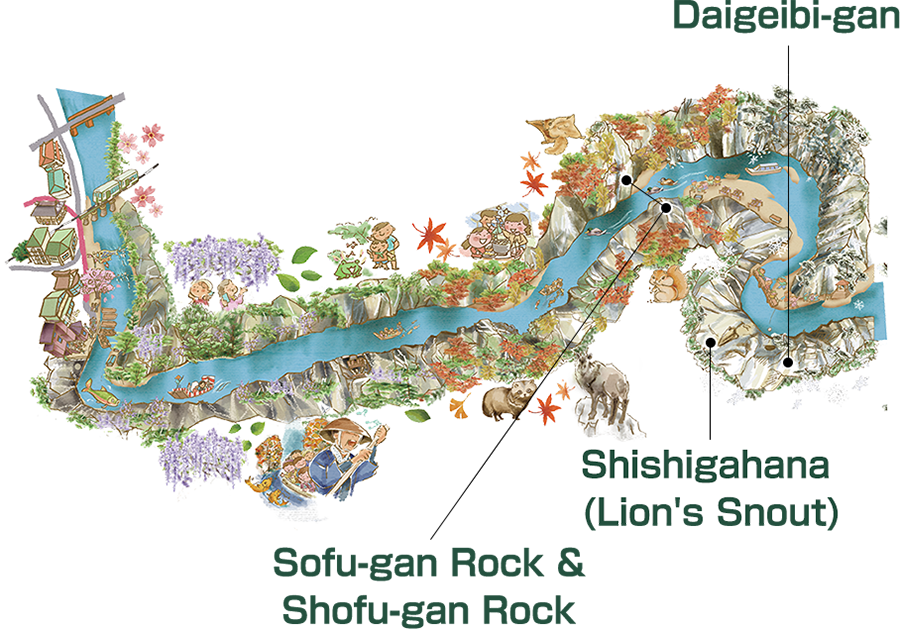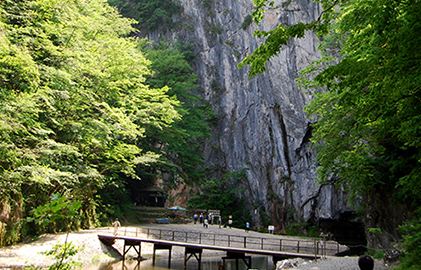 Daigeibi-gan
A giant cliff 124 meters high, located at the furthest part of Geibi Gorge.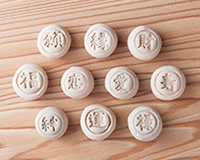 Undama
There are 10 undama: destiny, longevity, fortune, connections, wishes, romance, love, bonds, income, and assets. You can buy five for 100 yen.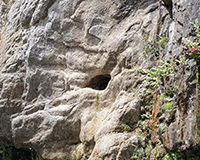 Wishing Hole
It's said you'll get good luck if the undama you throw goes in the hole.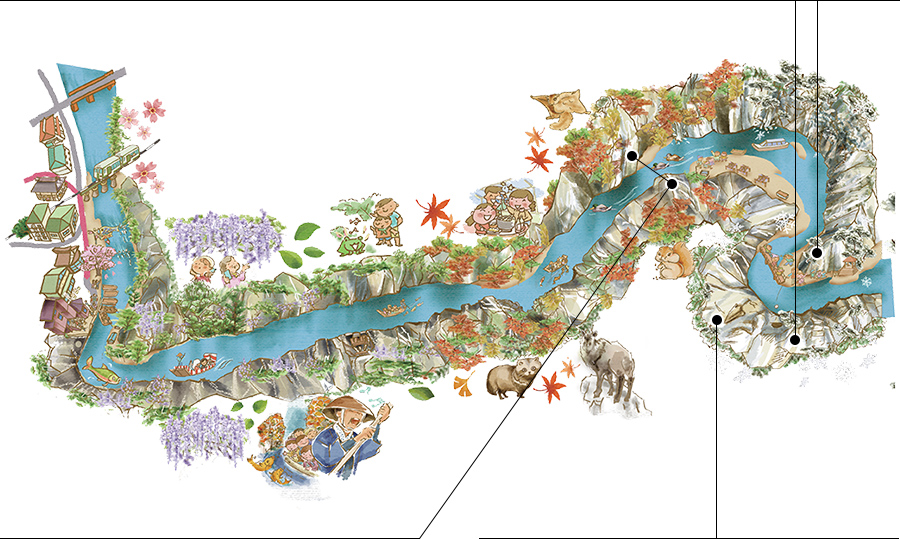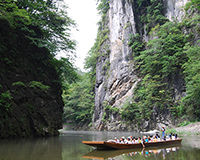 Sofu-gan Rock & Shofu-gan Rock
These giant rocks face each other from opposite sides of the Satetsu River, resembling a married couple.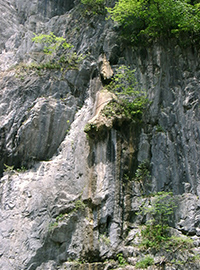 Shishigahana (Lion's Snout)
This strangely-shaped rock looks like a lion's snout, and is the source of Geibikei Gorge's name.
Fares
| | General public | Groups of 15 or more | Groups of 100 or more |
| --- | --- | --- | --- |
| Adults | 1,800 yen | 1,620 yen | 1,440 yen |
| Elementary school-age children | 900 yen | 810 yen | 720 yen |
| Small children (3 years and older) | 200 yen | 200 yen | 200 yen |
* Includes consumption tax
No discount applies for mixed groups of adults, elementary school children and small children.
Reservations required for groups of 15 or more.
Departures may be increased depending on the number of people.
Boats may be operated for groups as required.
Kotatsu boats operate from December to February.
Reservations are not required for "kotatsu" boats, but are required for orders of hotpot dishes.
Boats are barrier-free and can accommodate passengers using wheelchairs.
Pets (dogs, cats) on leases may ride for 200 yen. Pets are not permitted when the boat is covered with a plastic roof.
Timetable
Boats operate 365 days a year.
* Service may be suspended due to weather conditions.
* During busy periods, extra tours may be added as needed
| March 21-31 | April 1-August 31 | September 1-November 10 | November 11-20 | November 21-March 20 |
| --- | --- | --- | --- | --- |
| _ | 8:30 | 8:30 | 8:30 | _ |
| 9:30 | 9:30 | 9:30 | 9:30 | 9:30 |
| 10:00 | 10:00 | 10:00 | 10:00 | 10:00 |
| 11:00 | 11:00 | 11:00 | 11:00 | 11:00 |
| 12:00 | 12:00 | 12:00 | 12:00 | 12:00 |
| 13:00 | 13:00 | 13:00 | 13:00 | 13:00 |
| 14:00 | 14:00 | 14:00 | 14:00 | 14:00 |
| 15:00 | 15:00 | 15:00 | 15:00 | 15:00 |
| 15:30 | 16:00 | 16:00 | 15:30 | _ |
| _ | 16:30 | _ | _ | _ |
Inquiries & Reservations
Geibi Tourism Center (Reservation Center)
467 machi,Nagasaka,Higashiyama-cho,Ichinoseki-shi,Iwate 029-0302,Japan
TEL +81-191-47-2341 FAX +81-191-47-3288