Tourism in Iwate and Tohoku

Sightseeing in the area
Deep North Japan
Iwate Prefecture
Iwate is Japan's second largest prefecture by area - only Hokkaido is bigger. You can experience Japan's four seasons in Iwate, and spring in April allows you to enjoy both the cherry blossoms and the snow. There are many attractions, including hot springs and the World Heritage sites in Hiraizumi.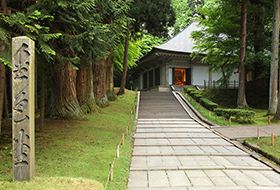 World Heritage Site Hiraizumi
Time required: 30 minutes
This popular area contains World Heritage sites, including Chuson-ji Temple and Motsu-ji Temple.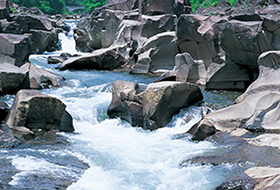 Genbikei Gorge
Time required: 35 minutes
Two-kilometer long gorge of dynamic beauty. Famous for its "flying" dango sweets.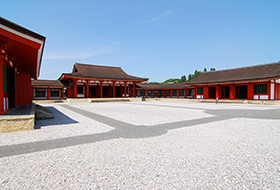 Esashi-Fujiwara Heritage Park
Time required: 45 minutes
Travel back 800 years to the Heian period. Try on the traditional costumes of the era. (Reservations required)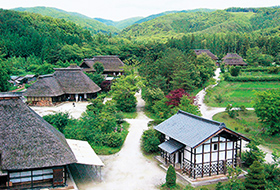 Tono Furusato Village
Time required: 90 minutes
Recreation of a traditional old farming village. Try soba-making and pottery. (Reservations required)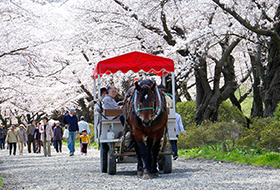 Tenshochi Park
Time required: 50 minutes
The best place in Tohoku to view cherry blossoms, with 10,000 trees of 150 varieties blooming in springtime. (Cherry tree viewing season: late April—early May)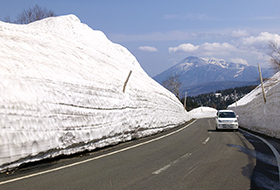 Hachimantai Aspite Line
Time required: 130 minutes
Drive through this snow corridor with several meters of snow towering over you on either side. (Until mid-May)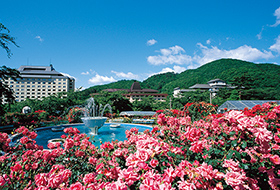 Hanamaki Hot Spring
Time required: 60 minutes
Surrounded by nature, Hanamaki is one of Japan's largest hot spring resort areas. Enjoy the beautiful fragrance and colors of the rose garden next door, too.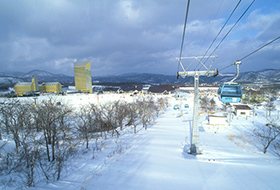 Appi Highlands
Time required: 110 minutes
Enjoy skiing, swimming, golf and more at fun-filled Appi Highlands, Tohoku's largest year-round highland resort.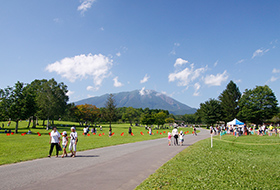 Koiwai Farm
Time required: 90 minutes
In addition to enjoying fun activities like guided tours and horseback riding, you can have your fill of delicious farm-fresh foods and you will love taking in the beautiful pastoral scenery.
Tohoku
The Tohoku region is made up of six prefectures—Aomori, Iwate, Akita, Miyagi, Yamagata and Fukushima. Experience the brilliant colors of Japan's four seasons, including the snow, the cherry blossoms, the autumn leaves, and the festivals. Travelers to Tohoku discover a different side of Japan, a harmony of people and nature unknown in the modern cities.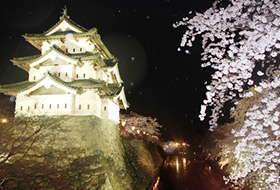 Hirosaki Castle(Aomori)
The only castle in Tohoku whose Edo-period tower is still standing. The castle is popular as a place for viewing cherry blossoms. (Cherry tree viewing season: late April—early May)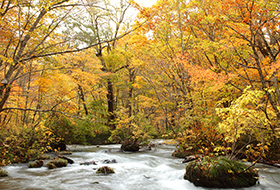 Oirase Keiryu Gorge(Aomori)
Take a walk through Oirase Gorge and enjoy the beauty of its sights, including spring greenery, autumn colors, waterfalls, clear stream waters and wild birds. (Autumn colors viewing season: mid- to late October)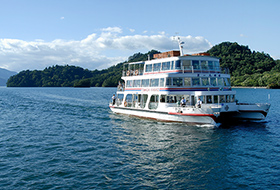 Lake Towada(Aomori)
How you enjoy this beautiful resort area is up to you—options include sightseeing cruises, canoeing and rowboats.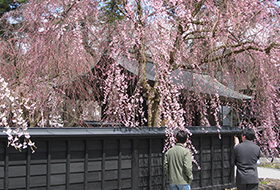 Kakunodate(Akita)
See the historic townscape where the homes of the samurai still remain. The best time to visit is when the cherry trees are blooming. (Cherry tree viewing season: late April—early May)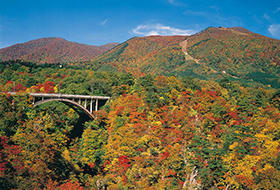 Naruko Gorge(Miyagi)
This 100-meter deep canyon is famous for its brilliant colors in autumn. (Autumn colors viewing season: late October—early November)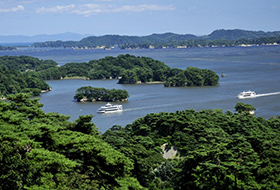 Matsushima(Miyagi)
About 260 islands of different sizes float on the waters of Matsushima Bay. The best way to enjoy them is from a sightseeing boat.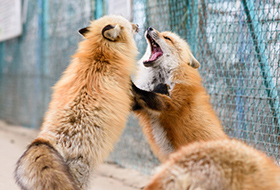 Miyagi Zao Fox Village(Miyagi)
Over 100 foxes of six types live here—come and meet them, as well as our rabbits, goats and ponies.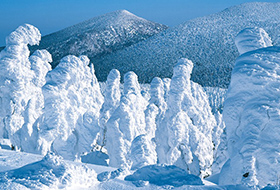 The Frost-Covered Trees of Zao(Yamagata)
Take the gondola to admire the art created by snow and ice. (Late January—early March)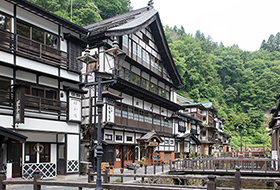 Ginzan Hot Springs(Yamagata)
Slip back 100 years into the past and enjoy the rich history of this hot spring town.
Risshaku-ji Temple(Yamagata)
The beauty of the four seasons awaits you at this temple complex founded in 860 .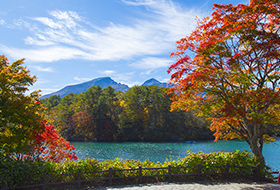 Goshiki-numa(Fukushima)
The 30 lakes, both large and small, form a beautiful landscape. Enjoy the views while hiking or boating. (Autumn colors viewing season: mid-October—early November)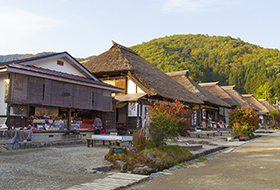 Ouchijuku(Fukushima)
This former post town features traditional Japanese buildings with thatched roofs. The soba with green onion is a popular dish here.